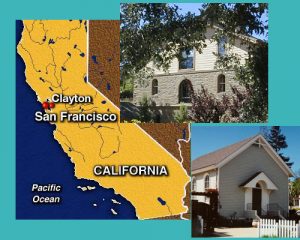 American Association of University Women (AAUW) is a charitable membership organization with a nationwide network of more than 165,000 members and donors whose mission is to advance equity for women and girls through advocacy, education,
We will have a potluck dinner as a main fundraiser on Monday, April 29, at 6:00 p.m. at the home of Diana Bauer. Please food, checks to support women's education, and we will have a nice evening of friendship and glee.  We will just have a glass of wine and good conversation and good food!
AAUW has been a champion of women's rights for over 100 years! We are not so old, but
getting close… nonetheless, we believe in the future, we believe in education, and in STEM
fields long before it was fashionable, and we continue to support education for girls and
women.
This is our chance this year! We will have a pot luck supper on:  Please come, and please, be generous! RSVP to Joan Chesterman (672-1316) ASAP to let her know what entrée or salad you will bring. Desserts are taken care of. Last year we suggested a contribution of $100.00. If this amount is not feasible, please give as much as you can.

Your contributions support Tech Trek and the Scholarship for a young woman from Diablo
Valley College, who is a transferring junior to a university. If you are not able to attend, mail your contribution to our Treasurer, Jill Day. Checks should be written to: AAUW Clayton Branch, and the memo line should read: Special Projects. Thank You!!!
                                                                                           AAUW-Clayton Branch Board of Directors
__________________________________________________________________________________________________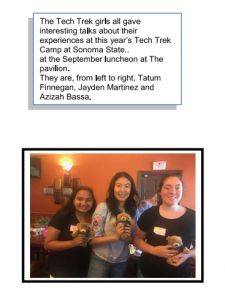 ====================================================================
AAUW C0-PRESIDENTS' MESSAGE
Diana Bauer & Joan Chesterman, Co-Presidents
The March General Meeting was very interesting and so very well presented. Thank you, Karen, for arranging this wonderful program. What a perfect program for celebrating Women's History
Month. All the members that came in spite of the rainy evening were very glad they attended.
This month's General Meeting will be our Branch Fund Raiser Pot Luck. It is a fun event where we get to socialize, enjoy member's great cooking skills, and donate to our general fund to support the scholarships we grant and other special projects the branch supports. The Pot Luck will be held on April 29th at Diana Bauer's home. You can find more information about this event elsewhere in this newsletter. The social is in lieu of the Spaghetti Feed, so
please plan to come.
All members should have received an email from the Chief Executive Officer (CFO) of AAUW asking you to vote for national offices and changes to the National Public Policy. It is a good time to see what our organization is doing on the national level.
Some of our members have been busy interviewing 8 girls and selecting 3 of them to represent our branch at Tech Trek this summer. We will enjoy meeting them at our September Membership Luncheon in September.
Word has just reached me about the passing of one of our long time members, Sue Kelson. See more information on page 3 of this newsletter.
============================================================================
Branch members enjoy the opportunity to participate with other professional women in meetings and gatherings focused on:
Programs meant to influence public policy as part of AAUW's powerful voice on behalf of women and girls.
Organizing and participating in programs/events to raise money to support local scholarships and Tech Trek camperships.
Individual interests such as book clubs, movie groups, hiking, biking, etc.
========================================================================